2018 Preliminary Program
Click below to view and download a copy of the 2018 Preliminary Program.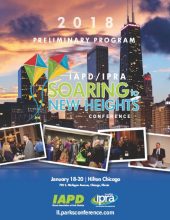 A copy of the Final Program will be available in January 2018. To view the 2017 Final Program, please click here.
Continuing Education Units (CEUs)
Attendees can earn up to 1.5 CEUs attending workshops and educational sessions Thursday – Saturday. Sessions scheduled for 75 minutes award 0.1 CEU. Workshops scheduled for three hours award 0.3 CEUs. The daily breakdown of CEUs is as follows:
Thursday:  up to 0.6 CEUs
Friday:  up to 0.4 CEUs
Saturday:  up to 0.5 CEUs*
* New for 2018 – Earn 0.1 CEU when you attend the Saturday morning Keynote Session from 8:30 am – 9:45 am. Note: the total CEUs noted above for Saturday includes this additional CEU offering.
Continuing Legal Education (CLEs)
CLEs are educational credits that attorneys elect to earn by attending educational offerings certified by the Supreme Court of Illinois. Sessions scheduled for 75 minutes award 1.0 CLE. Not all sessions are eligible for CLE credits. Sessions that are eligible are noted in the conference Final Program.