Keynote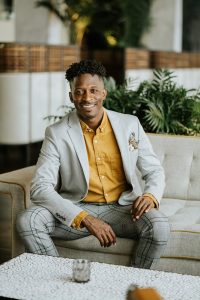 Adversity Makes You Stronger
How To Change Your Perspective on Adversity and Use It to Become Relentless
Charles knows a thing or two about facing adversity. At a young age, he was recognized as one of the fastest men in the world. He won the NCAA Nationals and one of the fastest athletes in the world and was on the verge of signing a shoe deal. That was until he faced a career-ending injury that left him broken and feeling like he lost his life purpose. Charles later realized that the adversity he was facing would be the very thing to propel him into his greatest purpose yet: to use his story to impact and encourage people all over the world who felt like he did.
In this empowering and motivating session, you will learn:
How to shift your perception on adversity and use it to make you a better, more fulfilled person
The one skill you need to become less impacted  by setbacks
The most important habits that amplify your  confidence, happiness, and peak performance
The power of decision-making and what choices  lead to gaining momentum on your goals
The science behind our behaviors and how to  reprogram your mindset
How to be empowered and uplifted to become  your best self
How to build a magnetic influence on those you lead and feel good about it
Relearn the meaning of success to avoid burnout
About the Speaker
Charles Clark is a motivational speaker, creator of the Thrive Planner, and bestselling author. Before becoming an international speaker, Charles was one of the fastest men in the world. He is a 3x NCAA National Championship and USA Track and Field Championships silver medalist. Now, as a mindset expert, Charles shows athletes, entrepreneurs, and companies how to win in life. Today, Charles Clark teaches people how to use adversity to build greater strength, success, and fulfillment.