What is a virtual conference and how does it differ from a webinar?
Much like an in-person conference a virtual conference provides a unique opportunity for attendees to participate in a diverse array of educational programming, an online vendor tradeshow, Keynote General Session, and networking activities over multiple days in an engaging format.
This multi-day, multi-function format differs from a webinar, which is typically a single topic educational presentation hosted live online.
What is the platform for the virtual conference? Is it an app, or is it streaming?
The platform for the virtual conference is Virtual Event Place (VEP) by Community Brands. VEP is not an app so there is no need to download anything. The VEP platform is a robust, secure cloud-based streaming solution for conference events that offers a flexible, rich, and engaging experience for participants.
What does the registration fee for the virtual conference include?
The registration fee includes a 3-day pass to over 80 educational sessions, the virtual Exhibit Hall, Keynote General Session, social networking activities, IAPD and IPRA Awards Ceremonies, the annual business meetings for both associations and CEU/CLE earning opportunities. For more information on the overall conference schedule click here. Attendees can also view session-specific details here.
 The fee also includes access to the platform to view content On Demand and continue to earn CEU/CLE credits for 30 days after the conference.
Can several members of an agency or a group of staff attend the conference together?
Each registration is meant for a single person, just like a conference badge at an in-person event. Only registered attendees can log in and will be eligible for CEU and CLE credits. Please refer to IAPD/IPRA's Virtual Code of Conduct policy regarding accessing the virtual event in an unauthorized manner, including sharing access information.
Can I register for a single day or for just one session?
Registration is by package pricing for the full three days of conference only. One-day and single session passes are not available.
Can I register to attend just the Exhibit Hall?
Yes! A special Exhibit Hall Access Only pass is available on a complimentary basis. Access to the virtual Hall is for all three days, as well as for 30 days post-show. Pre-registration by January 26th is required. Note: Exhibit booth staff will only be available to chat during the live 3-day conference. If booth staff are not available when you visit, attendees can "leave a business card" and a company representative will follow up with them offline.
How do I earn CEUs or CLE credits?
When you enter a session in the online platform you will be asked to type in your name and email. To receive your education credits, you MUST type in the same full name and email that was used when registering for the conference.
The platform will automatically track and record all sessions a participant attends. Similar to the in-person conference, if an attendee enters a session 15 minutes after a session begins or leaves 15 minutes before a session ends credit for that session will not be awarded. IAPD/IPRA will receive a report on all CEU and CLE activity that occurs during and after the conference. Any eligible credits earned will be submitted to our third-party partner for processing. For CEUs, certificates will be emailed to attendees by our registration provider, CTE. For CLE credits, attendee certificates will be emailed to attorneys within 7 days of the live show closing.
Since attendees are able to continue earning CEU and CLE credits during the 30-day post-show access, this year attendees will receive two sets of certificates for credits earned. The first CEU or CLE certificate will be processed for any CEU or CLE credits earned during the three-day 'live' virtual conference (January 28-30). The second certificate will be processed for any CEU or CLE credits earned during the 30-day post-show On Demand period (January 31-March 1). CEUs will be emailed to attendees within four to six weeks after each earning period end date. The CLE attendance certificates will be emailed to the attorneys within 7 days of the On Demand platform ending and any additional CLE fees will be invoices if applicable.
How many CEUs or CLE credits can I earn?
Continuing Education Unit (CEUs)
Attendees can earn up to 1.0 CEUs attending educational sessions during the live virtual conference on Thursday through Saturday. Sessions scheduled for 60 minutes award 0.1 CEU. The daily breakdown is as follows:
Thursday: up to 0.3 CEUs
Friday: up to 0.4 CEUs
Saturday: up to 0.3 CEUs
Attendees will have access to the platform for 30 days after the conference and can continue to earn additional CEUs for the sessions they watch On Demand. The number of credits earned post-show is only limited to the number of sessions an attendee can watch On Demand within the 30-day time period.
Continuing Legal Education (CLE credits)
CLE credits are educational credits that attorneys elect to earn by attending educational offerings certified by the Supreme Court of Illinois. Sessions scheduled for 60 minutes award 1.0 CLE. Not all sessions are eligible for CLE credits. Sessions that are eligible are noted in the Session Schedule At-A-Glance page in the conference website.
Advanced registration is required for attendees wishing to purchase and receive CLE credits. CLE credit packages are available as follows:
3 CLE credits = $45
4 CLE credits = $60
7 CLE credits = $105
8 CLE credits = $120
Attendees will have access to the platform for 30 days after the conference and can continue to earn CLE credits for the sessions they watch On Demand. Any additional CLE credits earned during the On Demand period that exceed what was originally paid for during registration will be invoiced accordingly.
When will I be able to access the platform?
Platform preview days for registered attendees will be Tuesday, January 26th and Wednesday, January 27th. This early access provides attendees an opportunity to learn how to navigate around the platform and familiarize themselves with the features, functions, and virtual rooms within the platform.
How do I access the platform?
Prior to the preview days, attendees will receive an email with the link to the platform and detailed instructions on how to login. This will be coming from our conference registration provider's email,  ilparks2021@cteusa.com.
When you first log-in, you will be prompted to change your password. To do so, click on the "Forgot Password?" link and enter the email that was used for registration.
An email will be sent to you with the link to change your password. The email will come from info@virtualeventplace.com. The email is automatic so if you don't see it in your inbox after a few minutes, please check your junk/spam mail folder. If you don't find it there either, you can request help through the Help Chat Box button in the lower right corner of the screen.
Once you change your password, in the upper right, click on 'My Virtual Events'. Then click on 'Soaring to New Heights Conference.' This will bring you to the lobby of the event.
I'm not sure if my agency will allow access to the VEP site. Is there a way I can check to ensure I won't have problems when the conference begins?
Attendees are encouraged to visit the platform during one of the preview days noted above to check your computer/browser's compatibility. In addition, below are a few tips and/or device requirements that attendees can use or share with their company's IT department.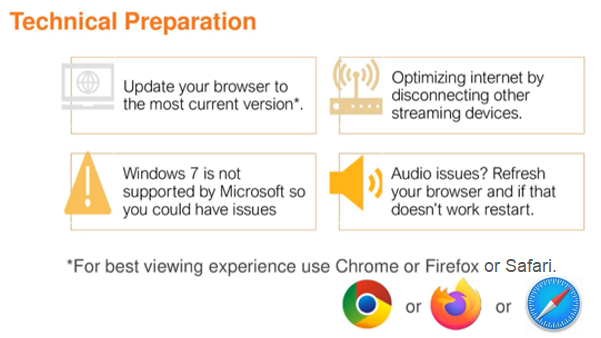 Additional Recommendations:
Make sure you have pop-ups blockers disabled in your Internet browser settings.
Add virtualeventplace.com to your browser or website firewall whitelist.
Use a hardwired internet connection and avoid using WiFi if possible since signal strength can vary causing unstable bandwidth issues.
Be sure your computer or device is equipped with speakers and the audio is working properly. External speakers can be added for enhanced sound quality.
Be familiar with IAPD/IPRA Technical Failure Policy for the virtual conference.
What are the Help Desk hours?
Pre-Show:      
Tuesday, January 26               8:00 AM – 4:00 PM CST
Wednesday, January 27         8:00 AM – 4:00 PM CST

Show Hours:  
Thursday, January 28              8:00 AM – 4:00 PM CST
Friday, January 29                   8:00 AM – 5:00 PM CST
Saturday, January 30              9:00 AM – 5:00 PM CST
Is the content presented during the virtual conference live-streamed?
To minimize difficulties arising from unexpected technical failures, most content offered during the virtual conference will be presented in a simulated live (simulive) format – prerecorded with live Q&A. The exceptions include the live Q&A portions of the educational sessions, Exhibitor live chats, daily meetups in The Burke Playground and IAPD's Annual Business Meeting scheduled on Saturday, January 30, from 3:30 pm – 5:00 pm.
Am I able and/or allowed to download and share conference handouts?
While PPT presentations, speaker handouts, exhibitor collateral and other supplemental materials will be available to download until March 1, please note that session recordings cannot be downloaded (or shared) at any time. Please note, IAPD/IPRA's Virtual Code of Conduct also prohibits attendees from copying or taking screen shots of Q&A or any chat room activity that takes place in the virtual space.
Do I have to watch the conference from the same device used to register?
Your registration login can be used on any computer or device you prefer however, you do have to use the email address that was provided when you registered. If an agency Admin is tasked with registering staff, make sure that person is providing individual emails during the registration process, so that each attendee can sign in using their unique email sign-on credential.
I am having trouble with streaming audio/I can't hear the speaker through my computer speakers/the slides are not loading/the streaming stopped… what do I do?
If you are having audio issues during the virtual conference, please check to make sure your computer speakers are not muted or turned off.
If you are experiencing technical difficulty of any kind during normal show hours, please contact VEP support staff by clicking on the Helpdesk link at the top right side of the platform menu bar or by activating the live chat box feature found in the lower right corner of the platform.
How can I see who is attending the virtual conference?
At the top right side of the platform menu bar, click on the icon for Search and enter any criteria you wish to search for. You can search for a general list of attendees, sessions, exhibitors and sponsors by checking the corresponding box, or you can search for specific information by entering keywords in the search field.
What opportunities are available to network and connect with other attendees/exhibitors?
The platform chat feature is one of the most effective ways to connect with other attendees and exhibitors during the virtual conference. Chat is available in each area of the event, as well as each exhibitor booth. You can chat to everyone in the room using text, or have private one-on-one text, audio, or video chat! For more information on how chat works, read on below.
Additionally, The Burke Playground, our engagement activity zone, is available for you to meet up with colleagues and connect to share ideas and discuss solutions to the challenges you are facing. And, if you need a brain break, several fun activities will be featured in this space, so be sure to check it out.
How to Chat on the Platform
Chat to all: Use the text bar at the bottom of the chat window to type a message. Simply hit send and your message will be public and visible to all.
TIP: To tag someone in your message simply use the @ symbol to search for their name. The chat will automatically populate the names of those are in the same chat.
Private text chat (1:1): To have a private text conversation, select the person you would like to chat with from the right-hand side of the screen. When you click on their name a private message window will pop up. From here you can engage by text, audio, or video.
Audio & Video call: To make a 1:1 audio or video call follow the steps above to pull up who you would like to connect with. Once you are in your private chat window you will be able to see a phone icon (voice only) and video camera icon (video call). Click on the corresponding icon to initiate your call.
TIP: Use the group or private text chat first to confirm someone has time and is ready to connect by phone or video.
Why is chat available in some sessions but not others?
The chat feature in all 100-level sessions hosted by IAPD will be disabled so that participants will be able to focus directly on the content being presented. Q&A will be available for attendees to submit questions that will be answered by the presenter(s) during the live Q&A portion at the end of the session.
All IPRA and IPRA section-hosted sessions (anything except 100-level sessions) will feature both chat and Q&A to allow for a more interactive and engaging learning experience for attendees throughout the entire session.
What happens if I stop by a booth in the virtual Exhibit Hall and no booth personnel are there?
Attendees will be able to "leave a business card".  Click on the appropriate button, enter your information in the fields and hit submit.  Your contact information and inquiry details will be sent to the company representative and they will follow up with you.
What is the Leaderboard?
Opportunities to participate in a friendly competition amongst conference attendees will be available in the Exhibit Hall. All premier and sponsor exhibits will reward points based on a specific task that is performed by an attendee within a specific booth. On the conference platform's navigation tool bar, attendees can click on the Leaderboard that displays every user and their points that they have accumulated. Please keep in mind the Leaderboard is updated every hour. Prizes will be awarded to the top winners.
When will access to the On Demand sessions be available on the platform?
On Demand sessions will be posted and made accessible in the platform within 72 hours after the session takes place. Sessions that are ready for viewing On Demand will display a button indicating so that attendees can click on next to the sessions listing.
How do I access the platform post-conference? Do I use the same link and login credentials?
Attendees should use the same link and login that is used for the live conference to watch sessions On Demand during the 30-day post-show access period. We recommend bookmarking the site in your browser for easy access. IAPD/IPRA will also send out a reminder email to attendees after the conference ends with the link to the platform for your convenience.
How long will On Demand content be available?
Content will be available for attendees to experience and/or revisit up through March 1, 2021. While the "live" interactive features such as chat and Q&A will not be available after the virtual conference ends, attendees will still be able to view presentations and leave a business card to have exhibitors follow up and contact them offline.